The Team at Singh Surgical Partnership are:
---

Ruth Singh MSc, MBA, Dip NS
Director of Marketing, Finance and Patient Liaison
Qualifications
Master of Business Administration (MBA)
Master of Science (MSc) in Advanced Clinical Practice in Cancer Care
Nurse Independent/Supplementary Prescriber
Diploma in Nursing Studies
Current Membership of Professional Bodies
Nursing and Midwifery Council (NMC)
Royal College of Nursing (RCN)
Professional Profile
Ruth is a motivated, enthusiastic senior nurse who delivers and believes in a high standard of multidisciplinary patient care in accordance with best practice. She is stimulated by a challenge, embraces change and has a particular ambition to succeed. She has excellent communication and time management skills and maintains an open minded and positive attitude when under pressure.
Background
Ruth qualified as a registered nurse at the Frances Harrison School of Nursing in Guildford in 1995.
Post qualification she worked on a busy surgical ward at Frimley Park Hospital caring for patients who had undergone a variety of both minor and major surgical procedures for cancer and non-cancer related diseases. This is where her interest in surgical/cancer nursing developed.
In 1998 Ruth became a Ward Sister on the surgical ward acting as a team leader and deputising for the Ward Manager. In addition she obtained she studied part time and obtained a Certificate in Management.
A year later in 1999 Ruth started to work as a Sister and subsequently Ward Manager on Parkside, the private patient department at Frimley Park Hospital. As Ward Manager Ruth had 24-hour nursing and operational management responsibility for the ward and outpatient department. She was able to establish and develop effective professional relationships with the consultant users in order to provide the best standard of patient care. Her role undertook major dealings with insurance providers in respect of patient care and also reviewing provider contracts.
From 2001 until 2008 Ruth pursued her career as a specialist nurse. She was responsible for assessing, diagnosing and supporting patients and their families with cancerous and non-cancerous diseases of the upper gastro intestinal (UGI) tract. She undertook nurse led outpatient clinics, provided a nurse led diagnostic and therapeutic endoscopy service and undertook minor surgical procedures. She was a pivotal point of contact for primary and tertiary care in order to achieve the best care for patients. Ruth became an UGI nursing lead for the SWSH Cancer Network and also a National Peer Review Assessor for UGI Cancer. Academically this seven-year period was a busy time with Ruth achieving her MBA in 2002, her MSc in 2005 and her nurse prescribing qualification in 2003 and 2005.
In 2008 Ruth moved on to become the Endoscopy Unit Manager at Frimley Park Hospital. She continued to provide a nurse led diagnostic and therapeutic endoscopy service but also had nursing, managerial and operational responsibility for the unit. She was involved in achieving JAG accreditation for the unit, securing Bowel Cancer Screening status, undertook a major role in the refurbishment and redesign of the unit and the implementation of a state of the art decontamination area within the unit which served the entire trust and tertiary clinics.
In the summer of 2009 Ruth left the hospital to have her first baby, with her role now being a Mummy. She is also a partner in the Singh Surgical Partnership, responsible for finance, marketing and patient advice, working in the practice whilst the children are at school.
Personal Profile
In 1997 she completed the London Marathon and subsequently undertook two treks to Nepal the last one to Everest Base Camp. Ruth is now Mummy to three lovely children who keep her very busy. In between running round after the children and working in the practice Ruth enjoys going to the gym.
---

Neil Minter MSCP, SRP Grad Dip Phys
Physiotherapist
Qualifications:
Graduate Diploma in Physiotherapy.
Registered Physiotherapist with the Health Profession Council
Special Clinical Interests:
Spinal conditions, sports injuries including sportsman's hernia (Gilmores Groin)
Current Membership of Professional Bodies:
The Society of Orthopaedic Medicine, Association of Physiotherapists in Sports Medicine.
Practicing at:
72 York Town Road, Sandhurst, Berkshire, GU47 9BT
Telephone: 0118 9760607
E-mail: info@neilminterassociates.co.uk
Current NHS Position:
Spinal Orthopaedic Practitioner at Frimley Park Hospital
Background Information
Neil qualified from the Wolverhampton School of Physiotherapy in 1988 after receiving the Clinical prize in year 2 of his training.
After qualifying, he started to develop his interest in the field of Orthopaedics and sports injuries.
In 1988, he became Physiotherapist to the Under 18 England Hockey teams and in 1992 became Senior Physiotherapist to the England and Great Britain Mens Hockey teams.
In 1996 and 2000, he attended the Atlanta and Sydney Olympic Games as the Physiotherapist to Great Britain mens Hockey teams.
In 1998 he attended the Common Wealth Games in Kuala Lumpur as Physiotherapist to the England mens Hockey team.
Between 1992 and 2000, he worked with these teams attending tournaments including the Hockey World and European Cups.
Currently he works from his private practice but also does work on occasions covering the National young athletes Athletic Club finals.
Neil has treated a wide range of elite male and female athletes from both professional and Olympic sports.
Neil is dynamic, hard working and patient orientated in his approach. He utilises manual therapy including manipulation, prescriptive exercise, sport specific rehabilitation along with acupuncture and electrotherapy when appropriate in his treatment of patients.
Personal profile:
Neil is a family man with two children with interests in running, cycling, skiing, Karate and travelling.
---
Nicola Martin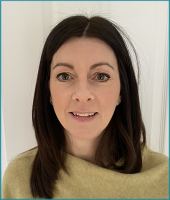 Nicola is a highly committed, efficient, medical secretary who is able to build excellent relationships with health care professionals, patients and relatives. She is a highly valued and integral member of the team.
She is able to provide the highest standard of service and assist in managing and exceeding patient expectations.
She demonstrates excellent communication skills and has a caring and empathetic approach always putting the patient first. She receives regular positive feedback from patients, relatives and professionals.
'Just a little note to say thank you for all that you do.' J.C. Aug 2023
'Thank you for all your help with arranging my gallbladder op. Due to your hard work pulling it all together I am able yo enjoy a slice of Birthday cake and fly to Portugal.' D. May 2023
'I just wanted to thank you so much for all the support you have given me before and after the surgery. I have felt really reassured by you and it has really made it a special experience overall – thank you so much.' B.D. Feb 23
'Just writing to say a massive thank you to you for your kindness and efficient in dealing with the terrified individual that you first spoke to on Wednesday morning.' H.H Jan 23
'Thank you for being such an amazing secretary. You are so efficient, but still very helpful and friendly. Nothing is too much trouble for you and you reply to emails very quickly, whether it is something serious or a silly trivial question. I really appreciate all your help and kindness and will miss your emails not that Mr Singh has discharged me.' E.B. Nov 22
'I would like to thank you for all your help and advice, it has been a pleasure working with you. You are definitely the most efficient and lovely secretary I have worked with.' E.B. Sep 22
'I just wanted to thank you for getting my appointment today. I have never known such efficiency in my dealings with medical people. Thank you once again.' A.G Jan 22
'Well the Doc must have done something right in a previous life to get such a friendly, outgoing and conscientious PA.' R.G. Nov 21
'I feel the time is right for me to write to you on a personal level to thank you most sincerely for the exemplary way in which you so readily undertook all of the administration connected with all my various appointments, tests and queries to ensure that my journey was as smooth and painless as possible; all conducted with such grace and empathy. You have been an absolute joy to liaise with and I cannot sing your praises highly enough. I feel sure that Mr Singh is fully aware of what a gem you are Nicola, but be sure to remind him when it comes to salary review time!' S.E Aug 21
'Cannot say how grateful and thankful I am to you. You have always been so helpful and lovely which has made a pretty rubbish time so much easier.' H.C July 21
'Thanks for being very understanding, helpful and patient with my questions, you really helped me through my anxious times pre op.' V.E July 21
'Just to say a quick thank you for your kindness before my hernia operation. I realise I must have been a pain keep going on when you couldn't do anything, much appreciated!' M.B Sep 2020
'Thanks for all your help and guidance you provided me. The ever changing rules and processes during COVID 19 must have been most stressful. However your efforts and care made it all happen. Please accept my thats for all you have done.' T.W. Oct 2020
'Please thank you excellent secretary, she is a perfect front girl' Dec 2020
'A big thanks for all your support in making everything so easy and greatly helped in reducing stress and worry on my part.' PL. May 2021
'I want you to know how very much I appreciated all your help during which, for me, was a difficult time. It was so lovely to hear your voice at the end of the phone as you were always so kind, friendly and helpful in answering my questions or concerns I had. Nothing ever seemed too much trouble for you, even to the extent of just phoning to ask how I was. In other words, you really did go that extra mile, Nicola. I really can't thank you enough.' J.P Sep 2021
'This is me saying a big thank you to you Nicola, for all your help and for the very efficient and top class service you have given me over the last few weeks.You have been a great help. I honestly don't think I've ever spoken to such a cheerful happy P.A! It has been a real pleasure chatting with you!' M.A Sept 2021